While I managed to set up my own blog,
The Necro Files
, for making money, my success so far does not equal that of
Bloggernoob
. Instead of dealing with affiliate programs and advertising devices, I decided to review this blog instead.
What Is Bloggernoob All About?
Bloggernoob is a
money making machine
. It appears to be a part time project with very clear targets set. The owner of Bloggernoob is clearly very
gifted when it comes to marketing
.
Bloggernoob regularly offers
competitions
- not silly ones where you can win an affiliate link, real ones where you could
win awesome gadgets like a pmp
. This is an excellent way to promote your blog.
Bloggernoob
features a baby
to indicate that the blogger is a noob – a newbie. This is very clever, although I rather prefer babies like this: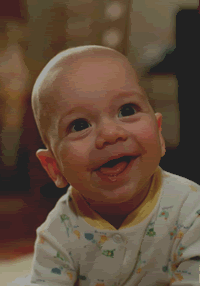 What can I say? There's no accounting for taste.
Why Is Bloggernoob Successful?
Firstly, I really like the
layout
of the site. It is uncluttered and easy to navigate.
Bloggernoob manages to entice readers to visit the site with
off-site marketing
. Joining a blogging network is definitely paying off for Bloggernoob.
The
adverts are part of the blog
organically. A reader never realises that adverts are on parade.
The Medicine
Let us consider Bloggernoob against
Pro Blogger's 4 Pillars of Writing Exceptional Blogs
. These pillars are as follows:


Be Extremely Useful


Write Great Headlines


Make The Post Scannable


Write In Plain, Concise, Common Sense Style


Is Bloggernoob Useful?
To be quite honest, Bloggernoob is
more interesting than useful
. I would suggest that Bloggernoob explain more about the art of making money with blogging.
Does Bloggernoob Have Great Headlines?
The headlines are usually succinct. One can clearly gather what the posts are about by skimming over the headlines.
Bloggernoob does have great headlines
.
Are The Posts Scannable?
The posts are
not really scannable
. It could be argued that Bloggernoob has short posts, so making it scannable would not really enhance the blog. However, I would still suggest
more lists
and perhaps a few
bold keywords
. It is always a good idea to pay mind to the
inverted pyramid style of writing
.
Is Bloggernoob In Common Sense Style?
This is
where Bloggernoob excels
. My posts tend to be filled with jargon because I am used to academic writing. My posts are often structured in a draconian manner, but due to the jargon much of the message could get lost.
Bloggernoob manages to stick to the point. The posts are devoid of jargon and
definitely in a common sense style
.
Conclusion: How Bloggernoob Could Improve
A suggestion from
Contestime
is to keep a running statistics bar somewhere on Bloggernoob. I agree, it could be interesting to
see how much money Bloggernoob is making day by day
, week by week or any such time division. It is one more reason to return to Bloggernoob regularly.
Bloggernoob is after all about making money, and I haven't seen such a running tab on any meta blog. It could give Bloggernoob that
Unique Selling Point
.
My Own Suggestions On How To Improve Bloggernoob:


Try to work on the structure of the posts a little. The writing style and the headlines are great, but the posts could be made more scannable.


Some of the posts have glaring spelling errors. This could be easiliy remedied with any word processor.


Bloggernoob could use more interlinking to previous posts. This is a great way to lower your bounce rate. Link back to previous posts that were particularly successful.


Lastly, some of the posts could be more useful. I feel the target audience of Bloggernoob is comprised of people who not only want to see how much money Bloggernoob is making, but also how he did it.


Bloggernoob shows that with
great marketing
, your blog could be noticed. This is my entry for the
Bloggernoob pmp contest
. If you have any ideas on how to improve
Bloggernoob
, please enter too!
Some Useful Resources
10 Steps To Writing A Successful Series On Your Blog
20 Types Of Blog Posts
How To Write For The Web